The Pasta House was a notable Fairhaven landmark for more than 40 years.  Mario Ribeiro and his family took over the business in 2001 and continued the tradition of being one of the best restaurants on the South Coast of Massachusetts.  In 2016, The Pasta House was awarded the Small business of the year by the New Bedford Chamber of Commerce.  And over the past 4 years has been awarded the best dining restaurant by South Coast Media, voted on by the people of the Southcoast.  
Rebranding of The Pasta House
In 2020  we started a renovation/rebranding project for the restaurant that was postponed due to COVID-19. In 2022, we were finally able to get the project back on track. The brand-new restaurant will be operated by The Pasta House Inc. The big difference is we will be doing business as BOCCA.
BOCCA is our new name & our brand. Bocca specializes in Italian cuisine and continues to offer many of the pasta house favorites we've been known to serve for years. Our menu will also provide a great selection of meats, fresh local seafood, chicken, veal, & pasta. Some new additions to our menu such as antipasto platters featuring imported meats & cheeses along with our new pizza!
Bocca is a little more sleek & stylish in appearance, and also provides a cozy & fun atmosphere.
The obvious question is, why did the name change?
Well, it's a change I've wanted to make since the first time we renovated back in 2008 however was persuaded otherwise at the time. The Pasta House name is used by a 17-unit chain based out of Missouri which has always caused much confusion throughout the years. Whether it was ordering online or purchasing gift cards, many errors and explanations have been made from both sides. It's just time we make the separation and start a new brand.
Another burning question, will you still accept Pasta House gift cards? The answer is yes! Our corporation is still The Pasta House inc and we will honor Pasta House gift cards as long we own the business.
I would like to take a moment to thank all our great patrons throughout the years. The Pasta House has made it 42 years in our community and it's all because of your support. BOCCA will do its best to continue the tradition of providing the Southcoast community with a great dining experience! I feel that in order to continue to be successful in any business you need to stay ahead and re-invest in your community.
Bocca will take us to the next level and keep us going on the Southcoast for years to come!
Cheers,
Mario Ribeiro
The Pasta House, Inc.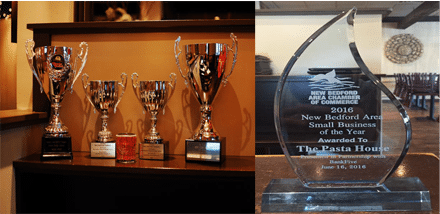 Award-Winning
Southcoast's "Best of the Best"
Italian Restaurant & Family Dining
2021, 2020, 2019, 2018, 2017
2016 New Bedford Chamber Of Commerce Small Business Of The Year
New Bedford Seaport Chowder Festival Awards
2006-1st Place Seafood Chowder

2008-1st Place Clam Chowder

2009-1st Place Seafood Chowder

2011-1st Place Seafood Chowder

2012-1st Place Clam Chowder (Peoples Choice Award)